Summary
A 48-year-old male presented with diffuse abdominal fullness for 1 month and tea-colored urine for 10 days. Abdominal computed tomography/magnetic resonance cholangiopancreatography revealed diffuse enlargement of the pancreas and unusual soft tissue density around the left ureter. Endoscopic retrograde cholangiopancreatography demonstrated lumen narrowing of the distal common bile duct and irregularity of the pancreatic duct. Markedly elevated serum immunoglobulin G4 (IgG4) was also noted. Biopsy of soft tissue from the area surrounding the left ureter identified lymphoplasmacytic infiltration with high concentrations of IgG4-positive plasma cells accompanied by obliterative phlebitis, compatible with IgG4-related disease. The patient was administered steroid therapy and his symptoms improved. Clinicians should be aware of possible IgG4-related disease in a patient presenting with obstructive jaundice and diffuse pancreatic enlargement because glucocorticoid administration can achieve good response.
Keywords
Immunoglobulin G4-related disease ; Jaundice ; Steroid
Introduction
Immunoglobulin G4-related disease (IgG4-RD) is increasingly recognized as a syndrome of unknown etiology consisting of a collection of disorders that are characterized by tumefactive lesions, dense lymphoplasmacytic infiltrate rich in IgG4-positive plasma cells, storiform fibrosis, and, often but not always, elevated serum IgG4 concentration [1] . This disease adversely affects one or more organs, including the biliary trees, salivary glands, periorbital tissues, and kidneys. This report describes an unusual case of a patient with IgG4-RD of the pancreas and retroperitoneum with clinical manifestation as obstructive jaundice.
Case report
A 48-year-old male with no history of major medical problems complained of abdominal fullness for 1 month, and of tea-colored urine and yellowish skin discoloration with itching for 10 days. He also lost about 6 kg body weight in 2 weeks. Fever, chills, abdominal pain, clay-colored stool, constipation, diarrhea, urinary frequency, low back pain, and melena were not reported.
Physical examination showed icteric sclera, generalized yellowish discoloration of skin, and no abnormal finding was found. Laboratory data included 8.1 × 109 /L white blood cells (normal, 4.0–10.0 × 109 /L), 55 U/L aspartate aminotransferase (normal, <35 U/L), 181 U/L alanine aminotransferase (normal, <40 U/L), 349 IU/L alkaline phosphatase (normal, <128 IU/L), 356 U/L ɣ-glutamyltransferase (normal, <60 U/L), 9.1 mg/dL total bilirubin (normal, <1.6 mg/dL), and 80 U/L amylase (normal, 30–110 U/L). Marked elevated serum IgG4 was also noted (5660 mg/L; normal, 39.2–864 mg/dL). Abdominal computed tomography (CT) and magnetic resonance cholangiopancreatography demonstrated diffuse enlargement of the pancreas with dilatation of the biliary tree and without pancreatic duct dilatation (Fig. 1 ). An unusual infiltrating soft tissue around the left common iliac artery causing left hydronephrosis and hydroureter was noted also (Fig. 2 ). Percutaneous transhepatic biliary drainage was performed for jaundice relief by an emergency physician. Endoscopic retrograde cholangiopancreatography showed narrowing of the lower common bile duct and pancreatic duct lumen (Fig. 3 ). A plastic stent (preloaded Cotton–Leung biliary stent, C741707, 7F, 7 cm) was implanted for biliary drainage. Several days later, a linear endoscopic ultrasound identified marked swelling of the pancreatic head and body with heterogeneous echogenicity and no pancreatic duct dilatation. A biopsy of pancreatic tissue was not performed due to patient intolerance. Biopsy of the soft tissue surrounding the left ureter was done under CT guidance, and histopathological examination showed diffuse lymphoplasmacytic infiltration of soft tissue and obliterative phlebitis with a positive IgG4 stain over the plasma cell (Fig. 4 ). Hence, the patient was administered methylprednisolone 40 mg/day initially and his symptoms improved. A repeat abdominal CT examination showed that his pancreas and soft tissue near the left common iliac artery had shrunk after treatment for 3 months. (Fig. 5 )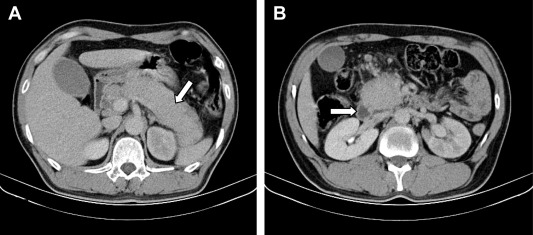 Figure 1.
Enhanced computed tomography shows diffuse enlargement of the pancreas without pancreatic duct dilatation (arrows).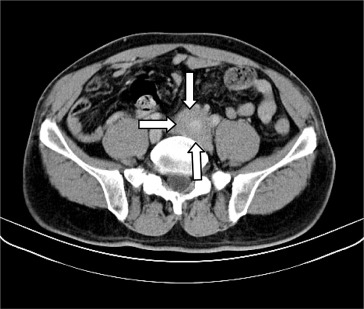 Figure 2.
Infiltrate soft tissue around the left common iliac artery (arrows).
Figure 3.
(A) Cholangiogram via percutaneous transhepatic cholangial drainage shows lumen narrowing noted at the distal end; the contrast could flow into the duodenum (arrow). (B) Diffuse lumen narrowing of the pancreatic duct is noted (arrow).

Figure 4.
(A) Histological examination shows patchy aggregates of lymphocytes and numerous plasma cells (100×, arrows). (B) Immunohistochemistry of immunoglobulin G4 is strongly positive (100×).
Figure 5.
After 3 months of treatment, enhanced computed tomography shows (A) a decrease in the swelling of the pancreas (arrow) and (B) soft tissue around the left common iliac artery (arrow).
Discussion
IgG4-RD can involve one or multiple organs. The disease was initially recognized in the pancreas, a disease now known as autoimmune pancreatitis, type 1 [2] . To our knowledge, some patients have been diagnosed with autoimmune pancreatitis with extrapancreatic manifestation (especially sclerosing cholangitis) in Taiwan [3]  ;  [4] , or received an operation due to clinically suspected malignancy. The disorder seems very uncommon, but the syndrome is now increasingly recognized in every organ system.
The epidemiology of IgG4-RD remains poorly described due to its low prevalence. Notably, IgG4-RD involving the intra-abdominal organs often occurs in men who are middle-aged or older. However, IgG4-related sialadenitis has a more equal gender distribution [5]  ;  [6] . Patients typically present with development of a mass in the affected organ or diffuse enlargement of the organ. As many as 40% of patients with IgG4-RD have allergic diseases such as asthma [7] .
The gold standard diagnosis is based on pathologic findings. The critical features of IgG4-RD are dense lymphoplasmacytic infiltrate, storiform fibrosis, and obliterative phlebitis, and it affects tissues with a predominance of IgG4-positive plasma cells and T lymphocytes. The minimum for making the diagnosis for most tissues is 30–50 IgG4-positive cells/high-power field [2] . The disease is generally accompanied by an elevated serum level of IgG4 [2]  ;  [8] . Less than 40% of patients have normal serum IgG4 concentrations, although classic histopathological findings for involved tissues are present [9] .
A standard treatment for IgG4-RD has not been established. Although IgG4-RD treatment is based on observational data, almost all have focused on treatment duration for autoimmune pancreatitis, which respond well to glucocorticoids therapy. Glucocorticoids are typically the first line of therapy, as in this case. In some studies, administration of glucocorticoids was discontinued within 3 months, but treatment continued for 3 years in other studies [10]  ;  [11] . Although the initial outcome achieved with glucocorticoids is satisfactory, disease flare-ups are common. Azathioprine, mycophenolate mofetil, and methotrexate are used alternatively for refractory patients; however, their efficacy has not been proven.
This report presents a rare case of a patient who presented with abdominal fullness and painless jaundice. The CT and magnetic resonance cholangiopancreatography showed an enlarged pancreas without pancreatic duct dilatation, and a retroperitoneal mass. Histological examination results were compatible with IgG4-RD. Clinicians should be aware of possible IgG4-RD when faced with abdominal fullness, painless jaundice, recurrent pancreatitis, or other related symptoms.
Conflicts of interest
All authors declare no conflicts of interest.
References