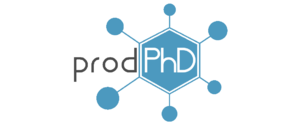 The main objective of the
prodPhD project
is to implement innovative social network-based methodologies for teaching and learning entrepreneurship in PhD programmes.
ProdPhD
brings together a solid association comprising partners with high level expertise in educational and research institutions.

International Centre for Numerical Methods in Engineering (cimne)
C Gran Capitan, Edifici C1, Campus Nord UPC SN, Barcelona 08034, Spain
The International Centre for Numerical Methods in Engineering (CIMNE) is a research organization created in 1987 at the heart of the prestigious Technical University of Catalonia (UPC) as a partnership between the Government of Catalonia and UPC, in cooperation with UNESCO. The aim of CIMNE is the development of numerical methods and computational techniques for advancing knowledge and technology in engineering and applied sciences. The ultimate goal of CIMNE is to become an international reference centre and leader in computational mechanics, through achieving excellence in all the activities carried out by the centre.

Universidad Carlos III de Madrid
C. Madrid, 126, Getafe 28903, Spain
UC3M's mission is to contribute to the improvement of society through teaching of the highest quality and cutting-edge research in line with stringent international guidelines. The University aspires to excellence in all its activities, with the aim of becoming one of the top universities in Europe.

Institut de Preparation a l'Administration et a la Gestion
Bd Saint-Germain, 184, Paris 75006, France
The IPAG Business School mission it to promote appropriate management in a globalised and rapidly-changing world. To this end, IPAG Business School relies on:
Top-level research that enriches the academic principles of its subjects
A great network with the business sector
An appreciation among students for the diversity of cultures and knowledge
Raising our student's awareness of major contemporary issues and ethics
IPAG Business School objective is to train multi-skilled, adaptable and responsible managers.

Foundation WEGEMT
Mekelweg 2, 2682 CD, Delft Netherlands
WEGEMT aims to update and extend the skills, knowledge and competence of practising engineers and postgraduate students working at an advanced level in marine technology and related sciences. WEGEMT achieves this aim by encouraging universities to be associated with it for them to work collectively as a network, and to actively collaborate in relevant initiatives. WEGEMT considers collaborative R&D, E&T at an advanced level, and the exchange and dissemination of information, as activities which further the aim of the Association.