Abstract
This paper aims to provide an overall image in terms of low carbon society (LCS) and its development in China. It mainly introduced and analyzed low carbon development which was addressed as crucial initiative for implementation of LCS in China. A comparative analysis was carried out on concepts and experiences of LCS between China and developed countries. The trends and characteristics of CO2 emissions in China have also been analyzed. Because of large amount of CO2 emissions generated in the production process and relatively small amount of CO2 emissions in the consumption process, China is facing a severe challenge of imbalance in economic growth and CO2 emissions. If the consumption and production pattern of developed countries are duplicated, China is very likely to experience a development pattern of boosting economic growth and improving living standards significantly but meanwhile risking and suffering by large amount of resources consumption and CO2 emissions. Thus, a comprehensive, systematic and scientific scheme for implementing a low carbon society is urgently needed in China. Through literature research, mainstream perspectives of scholars with respect to development of LCS are concluded. In the meantime, CO2 emissions reduction target, carbon taxation and different debated issues are also presented. The achievements, China has made, consist of concrete actions taken by local governments, some new policies and regulations for carbon reduction at national level, in particular energy-saving and renewable energy policies proposed in the 11th Five-Year Plan (2005–2010). Carbon trading markets and carbon capture and starage technology have also made progress in China. There are still many limitations and barriers remaining and in need to be solved in the next steps.
Keywords
low carbon society ; research ; practice ; China
1. Introduction
Low carbon society (LCS) is one of the essential initiatives proposed and launched globally for combating climate change. China has been recognized as the world's biggest CO2 emitter. Therefore theoretical research and practice on LCS are not only meaningful to benefit China's sustainable development but also influence ambitious goals of CO2 emissions reduction for the rest of the world. At present, there are only few scientific literatures focusing on introducing and discussing the status of LCS in China [ Liu et al., 2011  ; Hou et al., 2011  ; Liu and Feng, 2010 ]. This paper aims to comprehensively introduce the progress and characteristics of LCS in five aspects: 1) the concepts and mechanisms of LCS from both decision-makers' and researchers' perspectives; 2) the status and trends of CO2 emissions in China; 3) theoretic research concerning LCS; 4) practices of LCS, mainly focusing on efforts and contributions from the central government, local governments and private sectors; 5) limitations and barriers for implementing LCS in China.
The data presented in this report were mainly derived from official statistics and some ideas inspired by discussions with specialists and researchers.
2. Concept of LCS for China
The term of LCS was initially proposed in the Japan-UK Joint Research Project on "Sustainable Low Carbon Society" [ JUJRP, 2008 ], and its core content are: to be in accord with the principle of sustainable development; to ensure that the development needs of all groups within the society are met; to make equitable efforts to stabilize greenhouse gas (GHG) concentration; to avoid catastrophic effects of climate change; to use low carbon energy sources and technologies to increase energy efficiency; and to adopt the patterns of consumption and behavior that are consistent with low levels of GHG emissions.
The International Research Network for Low Carbon Societies was established in 2008 during a G8 summit, which inherited the main contexts of the LCS and then extended it to other developed and developing countries.
Four essential aspects of the LCS framework are valuable and of significance for China:
(1) Emphasize the overall change of the social mode, which consists of social mechanisms, institutional design, regional planning, and lifestyle, in order to create a scenario of a sustainable development society with low GHG emissions [ Skea and Nishioka, 2008 ; Hourcade and Crassous, 2008  ;  Matsuoka, 2007 ].
(2) Emphasize on setting the target for GHG emissions reduction, and using this target to drive and force the whole society towards low carbon in all aspects [ Fujino et al., 2008 ].
(3) Emphasize the role of cities in LCS. A city is an area with dense human activities and energy consumption. The design and the development mode of a city have strong influence on LCS [ Gomi et al., 2009 ].
(4) Emphasize the significance of public ideology, lifestyle, production, and consumption patterns [ Hourcade and Crassous, 2008  ;  Shimada et al ., 2007 ].
In China, similar concepts related to LCS are low carbon economy and low carbon development. Introduction to Low Carbon Economy [Zhang et al., 2008 ] and Collection on Low-Carbon Strategy [Zhang et al., 2009 ] were written to outline and summarize the situation of low carbon development in China. Among the authors are seven academicians of the Chinese Academy of Sciences or the Chinese Academy of Engineering, eleven government officials of the ministerial level, ten government officials of the provincial level, and many scholars and entrepreneurs. The books summarize and conclude different perspectives of the understanding and realization of LCS and low carbon development in China.
Through comparative analysis, we understand that low carbon development in China emphasizes the development of the economy on the conditions of significantly reducing CO2 emissions and mitigating the adverse effects of climate change. In China the scope of low carbon economy is much similar to LCS, but narrower than LCS as it does not emphasize the changes of the overall social mechanisms and the institutional design. Thus, low carbon economy is an economic mode with low energy consumption, low pollution, and low emissions [ Zhang et al., 2008  ; 2009; Zhuang, 2007  ;  UNDP (United Nations Development Programme, 2010a ]. However, the concept of LCS is getting more and more accepted in China. For instance, concepts and methods of LCS have been integrated into the designing and planning of Pudong new district in Shanghai [ Skea and Nishioka, 2008 ].
During the Copenhagen Conference in 2009, the Chinese Government pledged to reduce CO2 emissions per unit GDP by 40%–45% in 2020 compared with the 2005 level. This commitment sets a clear goal for China to develop a LCS in the near future. China is now facing the challenges of finding appropriate solutions which could adequately reduce CO2 emissions without compromising economic growth and living standards. The emerging of LCS could be an opportunity for China to achieve its ambitious target.
3. CO2 emissions in China
Since 1978 when China started the economic reform, CO2 emissions have dramatically increased due to China's rapid economic growth. Figure 1 shows the changes in China's CO2 emissions and carbon emission intensity in the period 1978–2009. In 2009, CO2 emissions have grown up to 5 times the amount of the starting point, but carbon intensity dropped to approximately 27% of the 1978 level.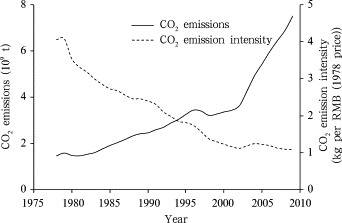 Figure 1.
China's CO2 emissions and emissions intensity during 1978–2009 [ BP , 2010  ; NBSC, 2010a ]
Overall, Figure 1 indicates that China moves gradually towards a low CO2 emission mode. A weak decoupling of economic growth and CO2 emissions is presented, in which the growth rate of GDP is significantly greater than that of CO2 emissions [ Tapio, 2005 ]. The CO2 emissions grew much faster in the last decade (1999–2009) since China's energy supply relied more on coal than before. In this period, the annual growth rate of the share of coal in the total energy consumption is 0.57%, while the annual growth rate of GDP is 11% (2002–2009). After 24-year declining, the carbon intensity began to rise from 2002, but after 2004, it started to decline again.
China still falls far behind developed countries in terms of the development level and energy efficiency. According to Table 1 , China's human development index is only close to the global average level, with still a big gap between the developed countries (OECD countries) and China. Economic development and people's living standard improvement are still regarded as China's primary targets. China's CO2 emissions per unit of primary energy, per GDP, and per kW h from electricity and heat generation, are all higher than the global average level as well as the level of developed countries. These indicators imply that China is still in the high carbon emission period and the energy efficiency in the production process also remains at a low level.
Table 1. Comparison of key indicators between China and the globe in 2008

| Country/region | Human development index (2009) | CO2 emissions per unit of primary energy source (t (TJ)–1 ) | CO2 emissions per GDP (kg per US$ (2000 price)) | Per capita CO2 emissions (t per person) | Per capita CO2 emissions of manufacture and construction (kg per person) | Per capita CO2 emissions in transport (kg per person) | CO2 emissions from electricity and heat generation (g (kW h)–1 ) |
| --- | --- | --- | --- | --- | --- | --- | --- |
| China | 0.648 | 73.4 | 0.60 | 4.91 | 1,635 | 341 | 745 |
| Average of OECD countries | 0.876 | 55.6 | 0.38 | 10.61 | 1,529 | 2,846 | 433 |
| Global average | 0.615 | 57.2 | 0.46 | 4.39 | 889 | 988 | 502 |
Note: The human development indices are from UNDP [2010b] , the else from IEA [2010] . OECD, Organisation for Economic Co-operation and Development
China's CO2 emissions per capita in manufacturing and construction sectors are much higher than the global average levels and are close to the levels of developed countries. This indicates that although China has a large population, the high energy consumption and large amount of emissions in industrial production bring high CO2 emissions per capita.
CO2 emissions per capita in the transportation sector are much lower than the level of developed countries. This indicator is closely related to the living standard. The high CO2 emissions at the production end and the low CO2 emissions at the consumption end indicate that China is urgently in need of a LCS transformation. The vice president of the Chinese Academy of Engineering said in the China Energy Forum that "too much (about 60%–70%) energy consumed in the industrial production process is a very serious issue." If the development pathway of developed countries is duplicated, China is very likely to reach an economic mode with high consumption and high emissions.
There exists a significant imbalance of regional economic development. The energy structure, the living standard, and per capita CO2 emissions at provincial level are very different (Fig. 2 ). The emissions are the highest in Inner Mongolia, which are about 9 times as those of Guangxi, ranking as the lowest in China.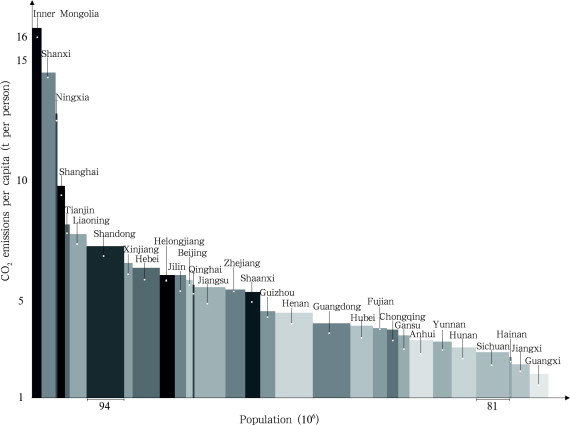 Figure 2.
CO2 emissions per capita and total emissions in provinces of China in 2008 (excluding Hong Kong, Macao, Taiwan and Tibet) [ NBSC, 2010a  ; 2010b ]
Note: The width of each column depicts population and the height depicts per capita CO2 emissions, so the area represents total emissions of each province
According to the statistical review of world energy issued by BP [2010] , China's total consumption of primary energy in 2009 was equivalent to 3.11 Gt C (plus the energy consumption in Hong Kong). China had overtaken the United States to become the biggest energy consumer in the world. In 2009, when the global emissions of GHGs dropped, CO2 emissions from fossil fuel consumption in China rose by 9% compared with the 2008 level, reaching 7.5 Gt CO2 , being the first country emitting more than 7 Gt CO2 per year. This serious circumstance forces China to the pathway of LCS.
4. Progress in the research of LCS in China
4.1. Researching overview
Chinese scholars are recently carrying out more studies on LCS. Through literature search analysis, the trends of academic activities on LCS by Chinese scholars are summarized in Figure 3 . Although literature search cannot accurately count all the studies in the field of low carbon research, the trend can reflect the enthusiasm and interests of scholars in this field. Since 2005, various academic articles on LCS have continuously increased in China, indicating that China's academic community pays more attention to LCS.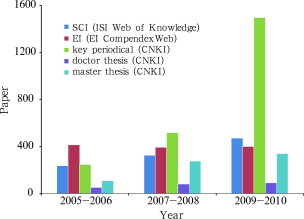 Figure 3.
Study literature for LCS during 2005–2010 Note: SCI search includes SCI, SSCI, A&HCI, and ISTP database; English search keywords: "greenhouse gas" or "low carbon development" or "low carbon economy" or "low carbon society" and country=China; Chinese search keywords: "温室气体" or "低碳发展" or "碳排放" or "低碳经济" or "低碳社会"
For the last six years (2005–2010), research institutions which are focusing on LCS in China have increased dramatically. According to the name of the institutions which published research articles, 18 research institutions have "low carbon" in their names and 41 have "climate change" in their names (China National Knowledge Infrastructure (CNKI) database search). Most of these institutions were established in the last three years and are mainly located in Beijing, Shanghai, and Guangzhou.
4.2. Methodology and pathway for LCS
Most of Chinese researchers have accepted that China, as one of the developing countries, should comply with the principle of common but differentiated responsibilities for combating climate change and pursuing low carbon development [ Zhang et al ., 2008  ; Zhang et al ., 2009  ;  Zhuang, 2007 ].
China's CO2 emission reduction is supposed to gradually transit from "relative reduction" to "absolute reduction". Relative reduction means decoupling economic growth and CO2 emissions, which will lead to the growth rate of CO2 emissions lower than the growth rate of economy. Meanwhile, China needs to persistently concern living standard and social justice [ Zhang et al ., 2008  ;  Zhang et al ., 2009 ]. That is why the Chinese Government made such firm commitment to enforce carbon intensity reduction.
The Copenhagen Accord indicates that the global temperature should not increase by more than 2°C. To realize this target, the EU proposed that the GHG emissions by 2050 shall be halved compared with the 1990 level. This proposal has become a mainstreaming perspective and has been embraced by many countries and organizations.
The economic development of China has particularly been constrained by CO2 emissions. To realize the absolute reduction of carbon emissions, China has to reach its CO2 emission peak first, which is very likely to occur around 2035. This means that China will realize the relative reduction before 2035. During this period China will gradually decrease its carbon emission intensity.
Chinese scholars have mostly used two main models to study LCS: computable general equilibrium (CGE) and integrated policy model for China (IPAC). The CGE is used to simulate how carbon policy, such as carbon tax and emission caps, will affect and contribute to the economy. The IPAC aims to comprehensively assess the decision-making processes on energy and environmental issues. The IPAC has the features of a "bottom-up" method and its application depends on different technical profiles, so that it could present different future scenarios of CO2 emissions.
The 2050 China Energy and CO2 Emission Report and China's Low Carbon Development Pathways by 2050 — Scenario Analysis of Energy Demand and CO 2 Emissions represent the main achievements of IPAC, i.e. the CO2 emission levels and technical capability, and various scenarios of medium and long-term CO2 emissions in China [ ERI (Energy Research Institute, 2009  ;  CECESTG, 2009 ].
The UNDP [2010a] comprehensively explained the status of China's CO2 emissions, concerning the impoverished and social justice. It also proposed a low carbon transformation, a low carbon technology road map, and advised policies for LCS development based on the CGE model.
Energy production, consumption patterns and energy efficiency are regarded as essential components on implementing LCS. Fan et al. [2007] found that the reduction in energy intensity was the overwhelming contributor to the reduction of carbon intensity in China during 1980–2003. Glomsrod and Wei [2005] proposed that China should use clean coal for combustion to reduce CO2 emissions. Jiang et al. [2010] concluded that the clean energy including the new energy technology and renewable energy resources, and energy-saving should be crucial for China's low-carbon economy. Peng and Shi [2011] found that carbon intensity plays a significant restrain role on CO2 emissions, which benefited from improvements of energy efficiency during 1992–2005. Hou et al. [2011] evaluated the opportunities for energy-saving and analyzed the main challenges and limitations on China's energysaving policies. They concluded that a long-term and effective mechanism to promote energy-saving is essential for low carbon development. Liu et al. [2011] identified that the opportunities for energy intensity improvement in China rely on energy-saving and clean energy development. Kahrl et al. [2011] considered that renewable energy would play a significant role in the transition of China to a low carbon electricity supply system and emphasized China's demands to make institutional changes in order to secure the low carbon transition more smoothly. Yuan and Zuo [2011] reviewed China's Five-Year Plans for the last 58 years and found an increasing attention on energy efficiency improvement and renewable energy usage.
The Chinese Academy of Social Sciences published its Annual Report on Climate Change Actions, and summarized the latest achievements on combating climate change in China [ Wang and Zheng, 2009  ;  Wang and Zheng, 2010 ]. The report is a systematic compilation and summary of the study on LCS from a social science perspective.
4.3. Focal issues
Since China has made a clear target on CO2 emissions intensity reduction, local governments are eager to know their shares under this target. Wang et al. [ Wang et al ., 2010  ;  Wang et al ., 2011a ] proposed the solution of converting the intensity target to a total cap target and constructing a regional allocation system. Yi et al. [2011] also developed an allocation solution which is similar to Wang et al., [2011a] with the only differences being the fundamental principle and the distributive factors. Wang et al. [2011a] identified equity, feasibility, and efficiency as the basic principles for the allocation, and selected five major indicators (per capita emissions, per capita GDP, energy consumption per unit of value-added of the industry, its trends, and the ratio of non-fossil fuel to primary energy consumption) as distributive factors. While Yi et al. [2011] considered equity, responsibility, and potential for the allocation, and selected three major indicators (per capita GDP, accumulated fossil fuel related CO2 emissions, and energy consumption per unit of value-added of the industry) as distributive factors.
Chinese scholars have also carried out in-depth studies and discussions on carbon tax. The common understanding is that carbon tax is the key economic measure to control CO2 emissions with market efficiency. Almost all of the scholars agree on issuing the carbon taxation policy as an important action for China to develop LCS, and the carbon tax rate must be limited under 20 RMB t–1 in the near term and gradually be raised to 150 RMB t–1 in 2020 [ ERI (Energy Research Institute, 2009 ; Wang et al ., 2009  ;  Su et al ., 2009 ]. The characteristics of the carbon taxation frame proposed by Wang et al. [2009] is "a low tax rate, wide tax base, low impact, neutralized", which is accepted by most of the institutions such as the Energy Research Institute and the Research Institute for Fiscal Science (RIFS) of the Ministry of Finance.
Liang et al. [2007] studied the negative effects of carbon taxation on the energy-intensive and trade-oriented sectors in China based on the CGE model. Wang et al. [2011b] analyzed the short-term impact of carbon tax on different sectors in China. The RIFS recently summarized the economic, institutional, financial, social, and other barriers on launching carbon tax in China as well as economic and social impacts of carbon tax [ Su et al., 2011a ].
4.4. Other issues
To push forward the development of a carbon trade market in China, the Beijing Environment Exchange has proposed the "panda standard", and the Tianjin Climate Exchange has focused on the voluntary carbon reduction standard, respectively. All of the attempts are aiming to set a voluntary emissions reduction standard for the Chinese market. The standard is required to meet the demand of domestic enterprises and individuals to take actions for LCS.
The Beijing Environment Exchange has also issued the China low carbon index. By using the revised market value weighting method, the weights are integrated and then allocated to 9 low carbon sectors based on their corresponding sectors and circulating market values. Recently, the Beijing Environment Exchange proposed the "Dual-Featured Trial Project on Carbon Trading" ("dual-featured" means specific region and specific sector). This proposal attracted widespread attention.
China has also made many efforts on researches of carbon capture and storage (CCS). China and the UK finished their near zero emissions coal (NZEC) initiative in 2009. This project examined the merits of various options for implementing CCS in China, including the potential for the development of CCS technology and its deployment in the future. Chen et al. [ 2009 ; 2011 ] has summarized the results of NZEC and analyzed the role of CCS in a low carbon development of China. In 2010, China and Australia launched a CCS research project, aiming to develop methods and indicators for the selection of CO2 storage sites, CCS monitoring, and environmental impact assessment, and giving recommendation on CCS policy in China.
5. Progress in practices of LCS in China
5.1. Policies, regulations and laws
The Chinese Government has promulgated the "Renewable Energy Law of People's Republic of China" in 2005 and issued the "China National Climate Change Programme in 2007", all of which have drawn a strategic blueprint for LCS implementation and energy security.
In the annual report of China's Policies and Actions for Addressing Climate Change, China listed details of various policies, measures, efforts, and achievements for reducing energy consumption and CO2 emissions.
In 2009, the Chinese Government made the commitment to reduce CO2 emissions by 40%–45% per unit GDP in 2020 compared with the 2005 level, which could be considered as a concrete and visible goal of the development of LCS in China. In order to measure the progress of achieving this target, China has integrated this target into its medium and long-term social and economic development plans as well as into the statistics, monitoring, and evaluation systems.
Since 2005, another important action for LCS in China is the compilation of the national inventory of GHG emissions, building the GHG inventory database of China, and starting the work of compiling local GHG inventories in specific provinces and cities. China has improved the statistical system for climate change. It has revised and supplemented some contents of energy consumption statistics and complemented energy categories so that the statistics will be comparable with international standards on energy classification, and incorporated renewable energy power generation and international fuel tanks (international aviation and shipping) in official statistics.
The 12th Five-Year Plan (2011–2015) was published in 2011; it demands that CO2 emission intensity in this period must be reduced by 17% compared with 2010. The 12th Five-Year Plan will have great influences on China's social and economic development. In the same year, the Chinese Government addressed the "establishing and improving supervision and monitoring system for CO2 emissions reduction and energysaving efforts" in the "Government Work Report in 2011".
5.2. Energy-saving and efficiency improvements
China has primarily determined that energy conservation, efficiency improvement, and non-fossil energy usage are the core components for low carbon development. Energy conservation and efficiency improvement would be the most crucial instruments for the carbon emission intensity reduction.
During the 11th Five-Year Plan period (2006–2010), from the national level to the provincial level, the main indicator for low carbon development is the energy-saving rate (including energy conservation and efficiency improvement). The energy-saving goal during the 11th Five-Year Plan period is to reduce energy consumption per unit GDP by 20% compared with the baseline in 2005. The distributed targets for provinces varied depending on their economic conditions. China has taken some important actions to ensure the accomplishment of this target, such as: ten major energy-saving projects which saved 140 Mtce; top-1000 energy-consuming enterprise program which saved 132 Mtce; and phasing out of backward manufacturing. These actions not only increased energy efficiency but also significantly reduced CO2 emissions.
Phasing out of backward production is one of the important measures to meet the energy-saving target. The accomplishment of this measure has secured the overall target for energy-saving. Figure 4 shows the reduction of obsolete productions by sectors and years [ MIITPRC, 2011 ].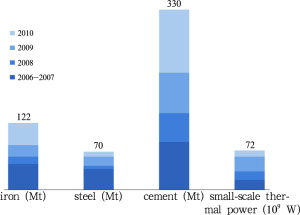 Figure 4.
Phased-out backward production capacities during the 11th Five-Year Plan period
In China the proportion of coal, crude oil, natural gas and non-fossil energy in total primary energy consumption are roughly 70%, 18%, 4%, and 8%, respectively. The shares are quite stable (non-fossil energy share has increased in the last 5 years but still remains small). The reduction rate of energy intensity (energy consumption per GDP) is almost similar to the reduction rate of carbon emission intensity. The energy consumption intensity target and carbon emission intensity target in the 12th Five-Year Plan is a reduction by 16% and 17%, respectively.
According to national statistics [ NDRC, 2011 ], China has basically achieved the energy-saving target of the 11th Five-Year Plan. The energy intensity decreased by 19.1% (excluding Xinjiang). In the 11th Five-Year Plan period, the annual growth rate of energy consumption is 6.6% while it supported 11.2% of economic growth. The elastic coefficient (the ratio of energy consumption to GDP) of energy consumption decreased from 1.04 to 0.59. All provinces have achieved their own energy-saving targets except Xinjiang (Fig. 5 ). Beijing ranked number one with a reduction rate of 26.59%.
Figure 5.
Illustration of energy-saving target achievement in China's provinces (11th Five-Year Plan period)
The energy-saving target is a reduction by 1.5 Gt CO2 compared with the baseline scenario. This CO2 reduction benefit attracted more political willingness to push forward the development of LCS in China.
5.3. Non-fossil energy
China has visible and ambitious goals of raising non-fossil energy up to 11.4% of primary energy consumption in 2015 and to 15% in 2020.
In 2010, China ranked the top one among all countries in terms of newly installed capacity of wind power and nuclear power. By the end of 2009, China also ranked the top one in the world for newly installed capacity of hydropower and solar heaters [ NDRC, 2011 ]. Hydropower is one of the clean and renewable energy resources which can significantly contribute to LCS. But hydropower plants with installment capacities larger than 30 MW are often criticized concerning controversial issues such as ecological damage and resident migration. But small-scale hydropower plants are environment-friendly, cost-effective, and have almost zero GHG emissions, which positively benefits LCS.
By the end of 2009, the newly installed hydropower capacity during the 11th Five-Year Plan period reached 197 GW, accounting for 22.5% of the national total installed capacities. In 2009, the total hydropower output is around 57.47 billion kW h, which substituted for approximately 180 Mtce and reduced 470 Mt CO2 emissions [ NDRC and NBSC, 2011 ].
By 2009, six nuclear power plants had been built in China. In 2010, three new nuclear reactors were under construction. But because of the Fukushima nuclear accident that hit Japan in March 2011, the Chinese Government will propose more stringent regulations on application and approval procedures for new nuclear power plant. This may substantially slow down the progress of nuclear power development.
Energy-saving and developing renewable energy are two key aspects to realize LCS and improve China's environmental quality. Coal is the primary energy resource for China, which caused 90% of SO2 emission, 70% of dust, and 67% of Nx O emission. Therefore, the implementation of energy-saving measures and adjusting the energy consumption structure can significantly improve the air quality while improving the human living standard. Meanwhile, China will boost distributed renewable energy such as wind power and solar power in the rural area that will definitely promote local employment and economic growth. Bioenergy, in particular, used for electricity generation, is a very important renewable energy resource in the rural area. It is considered as an excellent solution to transform straw efficiently. In the rural area, the reduction of non-CO2 GHGs (CH4 and N2 O) derived from livestock and farming, will benefit the pollutionprevention and large scale farming management.
5.4. Low carbon actions at local governments
At present, all China's 31 provinces (excluding Hong Kong, Macao, and Taiwan) fulfilled the compilation of their local schemes for addressing climate change, and have entered the stage of implementation.
In China, local governments show more passion and enthusiasm for LCS than the central government. Because low carbon development is always a sensitive issue concerning diplomatic affairs and domestic economy, the central government has to seriously balance the interests from different stakeholders. In contrast, local governments are much more concerned about their competiveness and investment of the economic development with a low carbon opportunity. Meanwhile, according to previous experiences, the pioneering cities always receive privileged policies.
Baoding in Hebei province set its own local LCS target in 2008 before the central government issued the explicit target on LCS. Since 2005, many cities and provinces have clearly proposed ambitious goals of low carbon development, and much more local governments have introduced low carbon economy and low carbon development in their annual government report.
In July 2010, the National Development and Reform Commission (NDRC) selected five provinces, Yunnan, Shaanxi, Hubei, Guangdong, and Liaoning, and eight cities, Tianjin, Chongqing, Shenzhen, Xiamen, Hangzhou, Nanchang, Guiyang, and Baoding (Fig. 6 ) as pilot areas. They are expected to establish targets and measures for reducing carbon intensity and introducing a carbon trading system to the market. This is the starting point of the central government to explicitly implement low carbon development. The pilot provinces and cities are required to establish a comprehensive statistics and accountable and transparent systems for GHGs. The pilot program aims to integrate low carbon development into urban planning, to restructure the energy supply patterns, to enhance energy efficiency, and to increase the coverage of carbon sinks (i.e. forest). Table 2 lists some cities which are actively getting involved in proposing targets for LCS.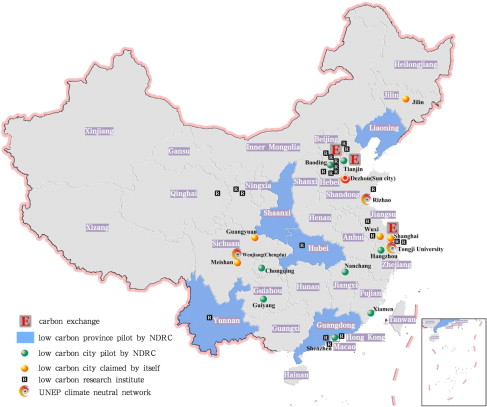 Figure 6.
LCS research institutions, the low carbon provinces and cities pilot taken from NDRC [2010] , and local low carbon development in China
Table 2. Targets of LCS from selected cities

| City | Low carbon target |
| --- | --- |
| Baoding | In 2010, carbon emission intensity dropped by more than 25% compared with 2005; CO2 emissions per capita are limited to 3.5 t; by 2020, carbon emission intensity should drop by 35% compared with 2010 and CO2 emissions per capita are limited to 5.5 t |
| Chengdu | By 2015, carbon emission intensity will be limited to 1.15 or below |
| Wuxi | By 2020, industry: carbon emission intensity drops by 45% compared with 2005, consumption of renewable energy up to 20%; transportation: public transportation shares up to 32% in total urban transportation; construction: energy consumption is reduced by 45% compared with 2005; all new buildings have to implement 65% energy-saving standard |
| Xiamen | In 2020, CO2 emissions are limited to 68.64 Mt. Transportation, civil buildings, public infrastructure and production are limited to generate CO2 12.35, 6.52, 12.69, and 30.20 Mt, respectively |
| Tianjin | By 2015, carbon emission intensity is limited to 1.69, drops by 15.5% compared with 2010. In 2010, industrial CO2 should not exceed the level of 2007, the GHG emissions from agricultural and livestock sectors should not exceed the level of 2008 |
| Guiyang | By 2020, carbon emissions intensity drops from 3.77 in 2005 to 2.07—2.24 |
| Hong Kong | By 2020, carbon emissions intensity drops from 0.29 in 2005 to 0.12–0.15 By 2020, CO2 emissions drop from 42 Mt in 2005 to 2,834 Mt By 2020, CO2 emissions per capita drop from 6.2 t in 2005 to 3.6–4.5 t |
| Nanchang | By 2015, carbon emission intensity drops by 38% compared with 2005, and non-fossil energy weighs up to 7% in primary energy consumption. By 2020, carbon emission intensity drops by 45%–48% compared with 2005, and non-fossil energy weighs up to 15% in primary energy consumption |
Note: The unit of carbon emission intensity is t CO2 per 10,000 RMB GDP
Shanghai and Baoding became the first two cities in a new World Wide Fund initiative to explore solutions for LCS in China's urban area. This low carbon city initiative initially focuses on energy efficiency in buildings, renewable energy resources, and manufacturing efficiency. Baoding is expected to gain worldwide reputation for its sustainable energy production. Shanghai is considered as the most vulnerable port city in China, because coastal area received more threats of climate change. The priority of Shanghai's mitigation measures is to increase the energy efficiency of the construction and transportation sector, for instance, the demonstration projects like the Shanghai Expo 2010, which highlighted low carbon exhibitions. Moreover, Wuxi in Jiangsu province aims to become an ecologically sound and low carbon city.
Rizhao, Wenjiang district, Chengdu, Tongji University, and URBN Hotel have joined the UNEP climate neutral network. They made a commitment on GHG reduction and use the climate neutral network as an interactive platform for taking mitigation actions.
Qingdao and Dezhou in Shandong province, Beijing, and Hangzhou, have signed the Daegu Declaration to commit the efforts on improving energy efficiency and renewable energy for GHG reduction.
5.5. Other aspects
Now, the Shanghai Environment Energy Exchange, the Beijing Environment Exchange, and the Tianjin Climate Exchange have already started carbon trading. Voluntary carbon trade volume in China reached 5.2 Mt CO2 in 2009 [ Hamilton et al., 2009 ].
Some influential enterprises and industrial associations in China have also made active efforts and commitments to boost LCS. In the "White Paper on the State Grid Corporation of Green Development" [ SGC, 2010 ] issued in 2010, the State Grid Co. proposed to build and complete the strong smart grid in 2020, which will increase the capability to consume clean energies, reduce the state grid line loss rate to 5.7%, with full coverage of intelligent electric meters, build up electric automobile charging stations in large and medium-sized cities, and increase the number of electric vehicles up to 30 million by 2020. If all of the commitments are fulfilled, the CO2 emissions will be reduced by 1.65 Gt in 2020 compared with the baseline scenario.
The China Building Materials Association issued an action map for low carbon building materials in China in 2009 and proposed that carbon emissions per 10,000 RMB added values for the building materials industry will drop to 7.33 t in 2012. In the 2008 China Sustainability Reporting Guidelines for Apparel and Textile Enterprises, the China Textile Industry Association has proposed that Chinese apparel and textile enterprises need to state the total emissions of GHG as well as control indicators, measures, and effects in their sustainability reports. Seven Chinese enterprises including China Mobile and Suntech Co. have joined the Climate Group, a UK based non-governmental organization, and signed an agreement to publish their GHG emissions information and reduction goals.
The Shenhua Group, China's biggest coal producer, has started China's first integrated CCS project and accomplished its first injection in Erdos, Inner Mongolia in 2011. This project aims to isolate and store about 100,000 t CO2 annually inside a salty water layer.
6. Limitations on the research and practice of LCS
Although China has made some progress on studies and practices of LCS, many difficulties still remain. At present, policymakers urgently need to solve three main issues.
6.1. Formation of CO2 emissions cap and a comprehensive LCS scheme
The Chinese Government has clearly stated to reduce the carbon emission intensity. But many scholars believe that the intensity goal is affected by both economic growth and CO2 emissions. Thus, the formation of concrete restrictions for the national economy and society development as well as the building of an appropriate statistical monitoring and evaluation system, under the intensity target, is very difficult. In addition, due to the significant differences of economic development and energy utilization in regional areas of China, the intensity goal is facing difficulties on fair, equitable, and reasonable allocation for the provinces.
Meanwhile, according to the experiences gained from the SO2 and chemical oxygen demand emissions control policy proposed in the 11th Five-Year Plan, the effectiveness of achieving the total emissions control goal is more rational than the intensity goal. Additionally, setting the total CO2 emissions control goal and distributing it to the provinces will not only promote the development of a voluntary carbon trade system but also help eliminate the regional rich-poor gap and promote green development [ Guan and Hubacek, 2010 ]. Furthermore, China has not issued a comprehensive LCS development scheme. This scheme should include not only an action plan on LCS and a CO2 emissions goal, but also regulations for a supervision and evaluation system and public participation.
Some of China's local governments shut down electricity and heat supply in 2010 winter in order to achieve the energy-saving target. This phenomenon demonstrates that a comprehensive LCS development scheme may avoid some adverse effects.
6.2. Promotion the role of cities in LCS
Cities are areas with a high density in population, architecture, transportation, industry, materials circulation, and energy consumption. Therefore, they inevitably become the major areas of GHG emissions. The report of the C40 Large Cities Climate Leadership Group estimated that cities emit 80% of man-made GHGs globally. The rapid growth in GHG emissions from cities is an important factor causing the rise of global GHG emissions. Although this conclusion is somewhat controversial, but total emissions of GHG from cities and indirect emissions triggered by consumption in urban areas remain undoubtedly enormous. Many cities in China have started planning for LCS, but only less than 2% of 655 cities (283 prefecture-level and 368 county-level, 2008) have implemented a LCS development. Most cities have not yet developed a GHG emission inventory. Additionally, the lack of methods for inventorying GHGs is also limiting the development of LCS in Chinese cities. Many cities still use the IPCC methods to calculate CO2 emissions, despite the common understanding that the IPCC methods are not applicable on cityscale. Therefore, establishing more scientific and specific guidelines on developing LCS at municipal level, including a methodology and indicator system, is very necessary for the development of low carbon cities in China. The development of low carbon cities is a key step for implementing LCS in China.
6.3. Raising the public awareness and participation
Although low carbon economy and low carbon development have become popular in China, low carbon is only a non-sense noun for most of the Chinese and the public knowledge of LCS remains at a low level. In 2007, the Chinese Academy of Social Sciences conducted a survey for public environmental awareness that collected information from 3,000 urban and rural residents. Only 41% of the respondents knew GHGs and the greenhouse effect, ranking fourth in the environmental problem knowledge rate, while the perception on seriousness of climate change also ranked fourth among environmental problems [ CEAP, 2008 ].
A similar survey conducted by the Horizon Research Consultancy Group in 2009 confirmed this conclusion. The knowledge of climate change problems of Chinese citizens still ranked fourth out of the 10 major environmental problems and only 6% of the respondents thought that the public should be responsible for climate change [ Lo, 2010 ].
The World Bank investigated 13,518 people from 15 countries in terms of their attitude on climate change in 2009 and only 28% of the Chinese respondents thought that climate change is a serious problem, lower than India and Iran. Overall, China ranked the lowest among the 15 countries [ WB, 2009 ]. These investigations indicate that in order to build a LCS, China still needs to make tremendous efforts of research and practice on public propaganda, education, and guidance of the public to shift to new patterns of consumption and behavior.
7. Conclusions
China is the biggest CO2 emitter as well as the biggest developing country in the world. China faces a dilemma between economic growth and CO2 emissions control. The core principle and ultimate goal of LCS is to reconcile the socio-economic development and CO2 emissions reduction. However, a LCS not only emphasizes the change of economic mode but also tries to create a completely new mode of society through the overall transformation of social mechanisms, institutional design, regional planning, and people's lifestyle. Our research has found that there are many theoretical researches assisting the establishment of either strategic schemes or concrete actions toward LCS. The practices of LCS in China are currently lacking systematic regulations and management. But during the period of the 12th Five-Year Plan, the central government will integrate a carbon intensity target into the national socio-economic development evaluation system. This will be the driving-force towards LCS, which will undoubtedly increase dramatically in the future.
Acknowledgements
This study is supported by the National Natural Science Foundation of China (No. 41101500). The authors appreciate the helpful suggestions and comments of anonymous reviewers and the editors.
References