Abstract
Both the European Union (EU) and China are culturally, economically, climatologically and environmentally diverse polities. The EU is a multi-state grouping of economically developed democratic countries, while China is a unitary sovereign state and a developing economy with a strong government bureaucracy. Our hypothesis is that given their diverse political systems, the EU and China would develop different kinds of systems for the governance of adaptation to climate change. We test this hypothesis through a comparative analysis of policy documents from the two study areas, in which we examine framework policies, programmatic actions and specific actions that have been adopted to date in order to address climate change, with a specific focus on the water sector. We find that climate change adaptation began to be addressed through formal policy on a similar timeline in the two regions. The EU and China are also similar in that they use framework laws and existing sectoral policy, such as for the water sector. We find that the EU has primarily relied on integration of climate change adaptation concerns through legal instruments which set a framework for implementation of adaptation policy. In China, specific actions to be incorporated in socio-economic development plans under the existing legislation on adaptation have been the main mode for integrating adaptation into sectoral actions, though the future trend may be to develop more regulations.
Citation
Gemmer, M., A. Wilkes, and L. M. Vaucel, 2011: Governing climate change adaptation in the EU and China: An analysis of formal institutions. Adv. Clim. Change Res.,2 (1), doi: 10.3724/SP.J.1248.2011.00001.
Keywords
international comparison ; climate change policy framework ; adaptation policy ; European Union ; China ; water policy
1. Introduction: Climate change adaptation in Europe and China
Adaptation is defined by the UNFCCC [2010] as "adjustment in natural or human systems in response to actual or expected climatic stimuli or their effects, which moderates harm or exploits beneficial opportunities". Compared to climate change mitigation, adaptation is a "late-comer" as a policy field. It is cross-sectoral in scope and demands responses from multiple levels of government. The institutional innovations required in supporting decision making and practical action for climate change adaptation are relatively under-researched [ Dovers and Herzl, 2010 ]. Climate change has different impacts in different regions. This requires adaptation on different administrative levels, and considering different time-scales [ Mertz et al., 2009 ]. How do societies organize themselves to undertake actions to adapt to climate change, as opposed to implementing scattered local activities that may lead to adverse outcomes? To address this challenge, governance structures are developed to guide the process of decision making over adaptation to climate change. Although a wide range of actors have played a role in convincing other actors to establish governance structures [ Bretherton and Vogler, 2006 ], it is most often governments that have put these governance structures into place.
Areas of both the European Union (EU) and China are vulnerable to the impacts of climate change, but with markedly different impacts and vulnerabilities in different regions within each area [ EEA, 2008 , MOST et al., 2006  and NDRC, 2007a ]. Both the EU and China are culturally, economically, climatologically and environmentally diverse polities. Both polities also differ significantly in their political structures. Although general literature exists on mainstreaming climate change and the governance system from international and national to local levels [ OECD, 2009 ; Parry et al., 2007], and despite the increasing cooperation between the EU and China, the authors, to their best knowledge, are not aware of a comparison between the EU and China in terms of their climate change adaptation governance. Massey and Bergsma [2008] delivered an adaptation policy and measures overview for 29 European countries, and Biesbroek et al. [2010] analyzed national adaptation strategies in seven EU member states. Jiang et al. [2007] discussed the roles of different state agencies in China's climate change adaptation strategy. However, a comparative study on the governance of climate change adaptation in the EU and China has, surprisingly, never been conducted.
This paper provides a comparative analysis of the formal governance structures for climate change adaptation in the EU and China which are both very diverse polities, though each has many markedly different characteristics. Notably, the Member States of the EU are all of a comparatively highly developed economic status and China is a developing country despite the large size of its economy. The EU is a polity consisting of 29 Member States. Both the EU and its Member States have directly elected representative bodies. The 29 Member States are integrated into the EU multi-state polity through the principle of subsidiarity [ Golub, 1996 ]. Although China's National People's Congress has nominal functions similar to the European Parliament (or those of member states), decision making in China is typically more centralized, with stronger systems to ensure the accountability of provincial and local agencies upwards to central government agencies [ Dreyer , 2009 ]. Unlike the EU, China is a unitary sovereign nation comprised of 34 province-level administrative units and a signatory to the UNFCCC, while the EU is not, although all its member states are. Despite these obvious differences, both polities face the common challenge of how to promote adaptation to climate change in a context of multi-level governance and diverse conditions.
Differences exist between the political systems in our two study areas and the ways different levels of policy are integrated. Therefore, our main hypothesis is that the EU and China would develop different forms of governance to address climate change adaptation. This paper investigates this hypothesis. Analysis covers the scope of adaptation to climate change in both polities, with a focus on France and Germany in the EU, and with a focus on the water sector as an example of a sector vulnerable to climate change but with crucial links to other key economic sectors. This is not a comment about the political systems or political positions of the EU or China, but a review of how these two global players have established governance structures for adaptation in their own ways.
2. Framework and method
In common parlance, "governance refers to the exercise of political, economic, and administrative authority in the management of a country's affairs at all levels" [ UNDP, 1997 ] and to the body of rules, enforcement mechanisms and related processes of interaction between actors that coordinate and bring into line the activities of the involved persons with regard to a common goal [ OECD , 2009 ]. Rules and their enforcement are at the heart of governance. The study of governance requires a focus on the institutions that make and enforce rules. In this paper, we characterize and compare the institutional arrangements that the EU and China use to pursue adaptation. Several commentators point out that the scope of governance is broader compared to the study of government, including the role of both formal and informal processes and institutions, including those outside the state, in decision making [ Saich, 2001 ]. The outcomes of these processes are often analyzed in terms of issues such as accountability, transparency and other features of what has become termed "good governance". Ideally, these would also be taken into account in a description of governance processes as would bottom-up and actor-oriented analyses which give more insights into how decisions are made in practice, including consideration of influencing factors that are not visible from written documents. Given the paucity of existing bottom-up research on climate change governance in both the EU and China, this is not attempted here. Rather, we present a top-down analysis that compares the formal institutions of climate change governance in these two polities as revealed in formal policy documents.
The authors have developed a heuristic framework of analysis in which we consider that the institutional arrangements that comprise the governance system for climate change adaptation consist of the following:
(1) Framework policies that embody the principles and values for structuring decision-making within society. Constitutions and the basic principles embedded in them, or the rules determining the hierarchy between different ministries, are examples of framework policies.
(2) Programmatic actions that operationalize the framework policies by establishing powers over instruments of governance (e.g., budgets, laws, regulations) which are in turn executed by actors such as ministries or other agencies. The establishment and design of inter-agency climate change committees, or central government directives, are examples of programmatic actions.
(3) Specific actions in which the empowered actors (e.g., ministries). Implement the programmatic actions using direct instruments, such as the enactment of implementation regulations, or approval of projects and plans. This might include, for example, drafting and implementation of a regulation to climate-proof water infrastructure projects.
This hierarchy of governance instruments is illustrated in Figure 1 . Our comparison between the EU and China will be made primarily by identifying the constituent components of framework policies and programmatic actions, with a focus on how framework and programmatic policies establish instruments to drive the development and adoption of specific actions. This enables us to compare the extent to which the governance structures adopted in the EU and China are similar or dissimilar. Since adaptation is a new policy sector, it is too early to systematically compare the adoption of specific actions and their impacts or effectiveness, and this is not attempted in this paper.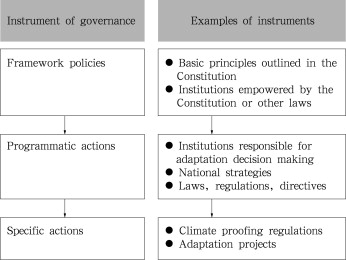 Figure 1.
Schematic representation of governance instruments at different levels
Policies and actions are operationalized at different scales, for instance on the level of the EU (China), of single Member States (provinces) and ultimately at sub-national (sub-provincial) regional and local levels. Mainstreaming refers to the integration of climate change concerns in established and new plans and programmes in different sectors [ Huq et al., 2003 ]. Policy coherence refers to the extent to which framework policies, programmatic actions, instruments and projects orient different stakeholders towards the same goals. Our analyses of framework policies, programmatic actions and specific actions enable us to compare how issues such as mainstreaming and policy coherence are being addressed through governance structures in the EU and China, to understand the process of their development, and to compare their contents.
3. Governing climate change adaptation: The national challenge
This section reviews the framework policies within which climate change programmes have been established in the EU and China, and analyzes policy documents to identify the institutional arrangements and other programmatic actions that govern decision making over specific climate change adaptation activities. For narrative simplicity we present the cases of the EU (Section 3.1 ) and China (Section 3.2 ) separately. Table 1 presents a chronology for some of the major policy documents at framework and programmatic levels in the two polities.
Table 1. Chronology for major policy actions and policy documents in the EU and China
EU
China
1951
Treaty of Paris (establishing European Coal & Steel Community)
1949
PRC Constitution (revised 1982, 1988, 1993, 1999, 2004)
1957
Treaty of Rome (establishing European Community)
1992
Treaty of Maastricht (establishing EU)
1995
National Climate Center established
1999
Established climate change (CC) coordination group
2000
ECCP I
2004
First National Communication to UNFCCC
2005
ECCP II includes adaptation
2006
CC coordination group housed at NDRC
2007
EU Green Paper on adaptation
2007
National CC Programme
2008
White Paper
2009
EU White Paper on adaptation
2009
Progress report
National governments (France, Germany)
Provincial governments
2001
ONERC established
2006
ONERC releases national adaptation strategy
2007
• Established provincial CC coordination groups • 4 provinces complete climate change plans
2007
National adaptation strategy Germany
2008
UNDP/Norway/EU supported provincial strategies
2005
German Climate protection programme
2009
All provinces complete climate change plans
2008
German strategy for adaptation
2009
Jiangxi and Xiamen city establish climate change monitoring and assessment centers
3.1. The EU
3.1.1. Framework policies in the EU
Constructed on the basis of various Treaties, the EU is a political grouping of 29 Member States. The core institutions of the EU comprise the Council of the EU, the European Parliament and the European Commission. The Council is represented by the Heads of Member States and is the main decision-making body. It shares legislative and budgetary power with the European Parliament which is comprised of elected representatives from the Member States. The Commission is the executive branch of EU government, proposing legislation and monitoring implementation of EU regulations and directives. The EU may not act independently of its Member States, while Member States may act independently of, but not in contradiction to, the EU.
Decision-making within the EU is subject to the principle of subsidiarity as defined by the Maastricht Treaty (1992) and in conjunction with the Treaty of Amsterdam (1997): Decisions are taken as closely as possible to the citizen and justified for effective action from national to local level. It is common for European legislation to take the form of Directives, which stipulate certain end results that each Member State must achieve by a certain date. The Member States are free to decide how to meet these results and to align national laws with each other and with the EU Directive. Upwards accountability in the implementation of Directives are specified and monitored by the Commission who may take legal actions against Member States in the European Court of Justice if they fail to comply with a Directive. In addition to Directives, the EU may issue Regulations, which automatically enter into force in all Member States, and Decisions which are individual measures addressed to a Member State, a company, or an individual.
The tasks of the European Commission are organized among a number of Departments or Directorates-General (DG), but there is no department solely responsible for climate change adaptation though its policy falls within the purview of the DG Environment. For all sectors there is a shared responsibility at the level of Member States and policy-supporting work of the DGs, the Joint Research Center of the European Commission, and the European Environment Agency.
3.1.2. Programmatic actions in the EU
Climate change policy falls under the auspices of DG Environment. Several Member States have established independent institutions to deal with adaptation. In 2001, ONERC (National Observatory on the Effects of Global Warming) was established in France, which has been coordinating adaptation actions and preparing a strategic framework since 2004 [ ONERC, 2006 ]. Climate change policy is the responsibility of the Ministry of Ecology, which together with ONERC steers a joint ministerial working group on the impacts of climate change, adaptation and its associated costs. Germany has created KomPass (Centre of Competence on Climate Impacts and Adaptation) while the responsibility for climate adaptation policy is with Germany's Ministry of the Environment (BMU). These institutions promote research, have roles in public awareness, and make related policy suggestions at national and sub-national levels.
The European Climate Change Programme (ECCP) was launched in 2000 to assist the EU develop a strategy for implementation of the Kyoto Protocol. An adaptation component was added only in the ECCP's second phase in 2005 [ EC , 2006 ]. ECCP II led to development of a Green Paper [ EC , 2007 ]. It presents an initial overview of how adaptation has or can be considered in existing EU legislation and policies. The Green Paper on Climate Change suggests to take early action where knowledge is insufficient and to support further research where there are knowledge gaps. It was followed by a public consultation which led to a White Paper on Adaptation to Climate Change [ EC , 2009c ] which lays the groundwork for a Europe-wide adaptation strategy with a first phase up to 2012, and implementation after 2013. The European level strategy focuses on areas that can complement those of Member States and supports the integration of adaptation into EU policy. The White Paper highlights specific strategic actions with dates for their delivery, such as "develop guidelines and a set of tools (guidance and exchange of best practices) by the end of 2009 to ensure that the River Basin Management Plans (RBMP) are climate-proofed" and "ensure that climate change is taken into account in the implementation of the Floods Directive". Strategies enumerated in the White Paper are general, but the outcomes from specific actions to be undertaken are specified.
EU adaptation policy is to be executed through existing environmental policy instruments. In the water sector, a Water Framework Directive has been in place since 2000. Climate change adaptation requirements are included in the pre-existing EU Directives which is one way for national governments to integrate adaptation concerns into their own legislation and policies.
Aside from these EU-initiated processes, France developed an initial adaptation strategy in 2004 and released a further climate adaptation strategy in 2006 [ GWIM, 2006 ]. Germany made its first commitment with the release of a Climate Protection Programme in 2005 as the basis for a German strategy for adaptation to climate change [ BMU , 2005 ]. France and Germany released National Strategies for Climate Change Adaptation in November 2006 and December 2008, respectively, and are currently preparing National Adaptation (Action) Plans.
Germany's 2008 strategy summarizes the current state of knowledge on climate impacts on key sectors and outlines the requirements for cross-sectoral consultation and deliberation through which each Bundesland (province) will develop an Adaptation Action Plan [ BMU , 2008 ]. The German government will set up an inter-ministerial working group on adaptation to climate change led by BMU.
In France, the national agencies in charge of this analysis are quite explicit that adaptation options listed to date "do not, at this stage, constitute recommendations, but rather lines to be considered within the framework of adaptation planning studies". Their relevance, efficiency and feasibility must be studied in an integrated fashion, in particular by taking into account local context [ Vergès, 2009 ]. France's strategy [ ONERC, 2006 ] outlines nine areas of strategic action (e.g., enhancing knowledge, awareness raising, promoting local planning), with recommendations for mechanisms and outcomes.
3.1.3. Specific actions in the EU's water sector
Water resources management was originally addressed by the EU Water Framework Directive (WFD), issued in 2000 to ensure the long-term crossboundary sustainable use of water. The EU Floods Directive of 2007 requires flood risk assessments including climate change considerations (by 2011) and flood hazard and flood risk maps (by 2013) including climate change scenarios. Flood risk management plans with practical measures in the face of climate change must be established by each Member State by 2015. The interrelation between climate change and water management was addressed by an EU "Sectoral Paper on Climate Change and Water, Coasts and Marine Issues" [ EC, 2009a ], which outlines an integrated approach for water management including measures to mainstream adaptation into sectoral polices. This was followed by a non-binding "best practices" guidance document on adaptation to climate change in water management issued by Water Directors of EU Member States a few months later [ EC, 2009b ].
French and German Water Laws were revised to ensure compliance with the EU Directives. The EU Floods Directive (2007) requires that each river basin should have a flood risk management plans that considers designated flood return periods and take projected changes due to climate change into consideration. Therefore, the 2005 German Law for Improvement of Preventive Flood Protection made it a requirement to plan for 100 year returns. The First French Water and Aquatic Environment Policy was promulgated in 1992, completed in 2006 and transferred the WFD into the French legal system with a component on adaptation. The national adaptation plan [ ONERC, 2009 ] also specifies that risk prevention in river basin and flood management plans should be strengthened with climate change projections.
3.2. China
3.2.1. Framework policies
The Constitution of the People's Republic of China states that the National People's Congress (NPC) and its Standing Committee are empowered to exercise legislative power of the State, amending and introducing new laws. The NPC is also responsible for reviewing the work of the executive branch of government. The Executive Branch of government is led by the State Council in which 29 ministries and state commissions are represented, and the State Council also oversees the work of government in each of China's 34 province-level administrations. Decisions and orders of the State Council are binding on the ministries and provincial agencies responsible for their implementation. Typically, State Council Decisions will be stated in a general fashion, with the requirement for the relevant ministry to develop detailed implementation measures, which may be fulfilled through ministerial regulations, policies or programs. Although NPC has functions similar to the European Parliament and to parliaments in EU Member States, in practice there are limits to the extent to which the Communist Party and executive branches of government are accountable to the NPC. Common instruments of governance are decisions and orders that are binding on subordinates. The province level administrations of China have the right to make local policies and regulations, so long as they do not contradict national policy or legislation.
3.2.2. Programmatic actions in China
Climate change policy was implemented by China Meteorological Administration (CMA) until the late 1990's. This responsibility was transferred to the National Development and Reform Commission (NDRC) in 1998, shifting climate change from a scientific issue to a significant development issue. In 2007, the National Leading Group on Climate Change with more than 20 ministries and agencies as members was established under the Climate Change Department of the NDRC, headed by the Premier. It is responsible for discussing the major issues relating to climate change, sector coordination on climate change policy and activities, organising for negotiations, and decision-making on general cross-sectoral issues [ Qi et al., 2007 ].
Between 2002 and 2006, China developed its first National Climate Change Assessment [ MOST et al., 2006 ] which highlighted existing knowledge and key knowledge gaps. The first major policy statements concerning climate change adaptation were made in the National Climate Change Programme released in June 2007 [ NDRC , 2007a ]. The Programme summarizes existing knowledge of climate change impacts in various key sectors, outlines the principles guiding China's approach to climate change, and stresses integration with other interrelated sectoral policies. It considers that both mitigation and adaptation are to be addressed within the framework of sustainable national socio-economic development and lists specific adaptation targets and actions to strengthen national adaptive capacity. Examples include specific targets for increasing adaptation capacity in the area of forest, and specific actions such as the completion of anti-flood engineering systems in major river basins. "Key areas for adaptation" also lists specific actions with adaptation benefits, such as expansion of irrigation facilities and changes in cropping systems. A national science and technology plan for climate change was released [ MOST , 2007 ] which specifies areas and measures for addressing key knowledge and capacity gaps related to climate change mitigation, impacts and adaptation.
In 2008, China released a White Paper called "China's Policies & Actions for Addressing Climate Change" which presents policies and actions to adapt to climate change. It outlines the basic principles for addressing climate change, highlighting strategic areas of action and listing specific targets and actions to support adaptation. Existing laws and projects of relevance to climate sensitive sectors are listed, along with areas for future projects. The White Paper devotes a special section to institutional innovations. In 2007, the State Council required each province to implement the National Climate Change Action Plan in the light of local conditions, by establishing coordination mechanisms and climate change agencies, and by making locally relevant policies and regulations. One year later, in November 2009, a first Progress Report was released; one part describing the progress in mitigating climate change, the second part focusing on Policies and Actions to adapt to Climate Change [ NDRC , 2009 ]. This progress report is innovative and has neither been released for the policies of the EU nor France and Germany.
In 2007, the State Council requested each province to establish coordination mechanisms and leading groups. In general these follow the set up at the national level, i.e., they are led by the local DRC, but either MOST or CMA have also taken coordination roles. With support of the World Bank, the provinces Hubei, Jilin, Shaanxi, Yunnan had completed climate change action plans in 2007 [ NDRC, 2007b ]. By 2009, all 34 provinces had completed climate change plans, four of them with support of the UNDP. The plans were mostly drawn up by expert assessment and consultation with provincial government agencies. Most plans focus on climate change mitigation options. The NPC has issued decisions on climate change mitigation, giving the mandate to the government to integrate mitigation targets into the forthcoming Five Year Plan. No targets or decisions mandating climate proofing have been passed yet.
China has adopted a gradualist approach to legal reform, drafting and passing laws and regulations in response to issues arising at different junctures in the reform process [ Zhang, 2010 ], and increasing development of legal tools continues. In 2010, China's first local regulation governing climate change adaptation was adopted in Qinghai province, and at national level a "climate change law" is reportedly under drafting and discussion.
3.2.3. Specific actions in China's water sector
Assessments and strategic documents issued by China stress the importance of the water sector. Key actions to enhance adaptation in the water sector, as well as adaptations in other closely related sectors such as agriculture are listed in national and provincial plans. China has many existing legal instruments for adaptation and climate proofing in the water sector. For example, the Water Law of the People's Republic of China of 2002 governs the development, utilization, conservation, protection & management of water resources and prevention and control of water disasters within the territory of China. Special River Basin Commissions were established to coordinate river basin management in seven major river basins, and management plans for each have been drawn up. The Flood Prevention Law (2007) lays out principles and responsibilities for flood prevention planning. Specific standards, including flood return periods for different types of location, are stipulated in a national standard (GB50201-94) drafted by the Ministry of Water Resources and issued by the Ministry of Construction in 1994.
Several academic studies of past and projected climate change impacts on each of the major river basins have been conducted by the National Climate Center and the Ministry of Water Resources has established a special Climate Change Research Center. None of the river basin management plans explicitly considers the projected impacts of climate change. The national flood prevention standards do not consider the possibility of change in flood return periods. The CMA has issued a regulation (CMA Directive 18, 2008) requiring that major infrastructure project plans are subject to a "climate feasibility assessment" based on observed climate data. The draft regulations explicitly state that there is a need for more specific protocols and guidelines for implementation of the CMA regulations. At present, the CMA regulations are only effective within the CMA hierarchy.
4. Comparison and discussion
Decision making over climate change adaptation in the EU and China will be compared in the following. Informal processes of deliberation in both polities have not been considered. Water is a priority sector regarding adaptation, and the instruments adopted for addressing climate change in the water sector in these two polities are compared.
4.1. Framework policies
There are some structural similarities in the field of climate adaptation and its implications for the water sector between the EU and China. In the EU, directives are developed among Member States and even through wider consultation processes. Once the State Council or a leading agency such as the NDRC issues a directive or programme, subordinate provinces are quick to fulfil their tasks. Thus, in both polities instruments are adopted that enforce strong upwards accountability.
4.2. Programmatic actions
Compared to the level of Framework Policies, at the level of programmatic actions we find there are some significant differences between the ways in which the EU and China have set about making decisions for climate change adaptation to date.
(1) Institutional set-up: China established an inter-ministerial coordination agency for climate change in the 1990s. Climate change covers both mitigation and adaptation, and is approached in relation to national sustainable development. In 2007, the position of the climate change coordination body in the administrative hierarchy was raised, so that it is now housed in NDRC and headed by the Premier. NDRC facilitated the drafting of the National Climate Change Programme [ NDRC , 2007a ] and oversaw drafting of the provincial climate plans. The EU has not established a special agency for climate change coordination. As with many Member States, climate change adaptation matters are dealt with by the DG for Environment. Within the EU, many adaptation aspects are part of sustainable development which is in the purview of DG Environment. At the level of Member States, special climate agencies have been set up to work in coordination with the responsible ministry and with inter-ministerial bodies.
(2) Adaptation Plans: In both China and the EU, local adaptation plans are expected to follow from central strategies. The EU will have an integrated adaptation strategy by 2013, some Member States have already issued adaptation strategies, and many are in the process of developing them. In China, by 2009 all 34 provinces had produced a climate change plan, and climate change adaptation needs are expected to be included in the Five Year Socio-economic Development Plans for each province for the coming period (2011–2015). Partly, this rapid progress has been driven by the demand for action on GHG emissions. Final action plans for adaptation have not yet emerged in Europe or its Member States. Superficially, climate adaptation strategies in China and the EU are similar, with strategy documents outlining impacts, principles guiding adaptation, and then enumerating strategies, and both polities stressing the need to integrate adaptation into existing policy sectors. However, examination of the contents reveals different kinds of instruments have been adopted for adaptation policies in China and the EU to date.
Table 2 presents a quantitative comparison of recommended adaptation actions or options regarding the water sector that are listed in (a) the EU White Paper, (b) Germany's Climate Adaptation Strategy, (c) France's Climate Adaptation Strategy, (d) China's National Climate Change Programme, and (e) Hubei Province's Climate Change Plan. This latter was selected at random from the available provincial climate change plans in China. The general profile of China's climate change plan for adaptation in the water sector is quite different from that of the EU which focuses significantly on legal instruments. China's profile on climate change adaptation in the water sector is similar to that of the EU Member States, especially Germany.
Table 2. Percentage of times different types of measure are mentioned as recommendations or options in relation to adaptation in the water sector

| | EU white paper | Germany strategy | France strategy | China white paper | Hubei climate plan |
| --- | --- | --- | --- | --- | --- |
| Enhance knowledge | | 13% | 25% | 6% | |
| Provide information | | 3% | 13% | | |
| Planning instruments | 14% | 3% | 25% | 6% | 6% |
| Institutional innovation | 14% | 3% | 13% | 6% | 13% |
| Infrastructure | | 10% | 13% | 13% | 19% |
| Economic instruments | | | | 13% | 6% |
| Legal instrument | 43% | 13% | | 13% | |
| Management change | | 27% | | 6% | 6% |
| Technology adoption | | 10% | | 19% | 25% |
| Financial support | | 3% | | | 6% |
| Priorities to address with no specific tool mentioned | 29% | 13% | 13% | 25% | 19% |
| Total number of recommendations/ options mentioned | 7 | 30 | 16 | 16 | 16 |
Sources: EU white paper 3.2.3, Germany strategy section 3.2.3 , France strategy Chapter IV, China white paper section V , Hubei climate change plan in NDRC, 2007b
It is also similar to the profile of Hubei, except that Hubei proposed no legal measures to support adaptation. Legal instruments have been more of a focus at the EU level, while they are not a main instrument for proposed adaptation actions in China. Laws and regulations are typically incrementally developed over time in China. To date, one province has adopted a local regulation governing climate change adaptation, and a draft national law is reportedly under discussion. We may expect that legal instruments are added over time to the portfolio of adaptation policy tools in China.
At the EU and Member State level, adaptation strategies have focused on initiating society-wide deliberation processes. The final action plans are to be developed through intensive national and sub-national impact and vulnerability assessments and cross-sectoral discussions. In terms of the instruments adopted, EU adaptation strategies focus on using existing legal instruments to include these. In the water sector, pre-existing EU Directives already provide a legal framework for climate impacts to be considered. Thus, rather than requesting that specific activities are planned by member states, the EU has requested that certain outcomes indicating climate proofing are achieved. By contrast, Chinese strategies at both national and provincial level specify targets that imply a set of actions, or list types of action which may be incorporated in local development plans and funded in a project-support fashion. These actions are proposed within the current legal framework.
4.3. Specific actions
In the water sector, different specific actions have been promoted to date. Different instruments guide society in the direction of successful adaptation. The WFD and EU Flood Directive require certain outcomes (climate-proofed river basin plans and flood risk mapping). In some EU member states, climate proofing of flood prevention plans are already under way. In China, many academic studies have been conducted indicating possible changes in flood risks due to climate change, but the Chinese approach to adaptation planning has not yet led to development of legal instruments that can translate these concerns into action. Instead, we find in the national and provincial adaptation plans that further investments in water infrastructure are proposed. Standards for these investments that consider future flood return periods have yet to be developed.
5. Conclusion and outlook
At the level of framework policies, decision making in the EU is governed by the subsidiarity principle, and directives are used to align laws and policies among the Member States. In China, upwards accountability in the administrative hierarchy is achieved through various governance tools. Programmatic actions for climate change adaptation, such as national plans and strategies, show that in both the EU and China, general programmatic directions are provided by the central governments (EU commission in the case of the EU), and lower administrative levels (member states and provinces) are responsible for developing their own locally relevant strategies. In the EU, legal instruments are more commonly adopted already. In China, incorporation of specific project-based actions into socio-economic development planning has been the dominant mode for addressing adaptation needs to date and adaptation is mainstreamed into sectoral plans. Laws and regulations are typically incrementally developed over time in China. We may expect that legal tools are added over time to the portfolio of adaptation governance instruments in China. This would complete the very efficient and problem-oriented development and testing of climate change adaptation measures in China. In the EU, adaptation is mainstreamed into the rules governing sectoral planning already although the level of implementation may still vary in each Member State.
In future, after some further experience on climate change adaptation processes in the EU and China, one may analyze which type of institutional arrangement or instrument is most helpful for achieving meaningful planning documents and processes with regard to adaptation based on the special needs of the polities EU and China. Other aspects include the relative advantages of mainstreaming climate change through inter-ministerial arrangements as opposed to environmental departments.
Acknowledgements
The positions of Marco Gemmer and Andreas Wilkes are supported by the Center for International Migration and Development in Germany. The views expressed are purely those of the authors who are grateful for the support by the editorial office and the anonymous reviewers. This study was supported by the National Basic Research Program of China (2010CB428401) and the Special Fund for Climate Change of the CMA (CCSF-09-16).
References